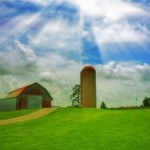 Farm and ranch owners have unique insurance needs. Traditional coverage may not adequately respond to those needs. Insurance for Agribusiness can help insure this special way of life for virtually all farms and ranches, including large commercial growers, packers, equine and dairy. We will work with you to customize coverage at the appropriate price.
We can structure coverage to provide protection for your farm or ranch through a variety of options:
Liability and Medical Payments – covers medical expenses, cost of defense, property damage including legal liability and moral obligation, bodily injury to others, limited pollution, including overspray and drift, product liability, and grazing on others' property.
Home and Personal Property – includes coverage for fire or lightning, removal of property, windstorm or hail, explosion, riot or civil commotion, aircraft, vandalism and malicious mischief, additional living expenses, rental value, theft, smoke, and vehicles.
Farm Outbuildings – basic coverage is provided for machine sheds, barns, grain bins, silos, hay sheds, hay storage, controlled atmosphere storage, packing buildings, milking barns, milking parlors, loafing sheds, horse stables, pole buildings, storage sheds, and more.
Farm Personal Property – includes coverage while your farm personal property is being loaded, unloaded or is in transit. Basic coverage is also provided for hay, grain, equipment, portable buildings, tools, supplies, livestock and other farm personal property, as well as machinery and equipment borrowed for use in your operation.
Please call us at 305-274-3970, and we will make an appointment to come see you.